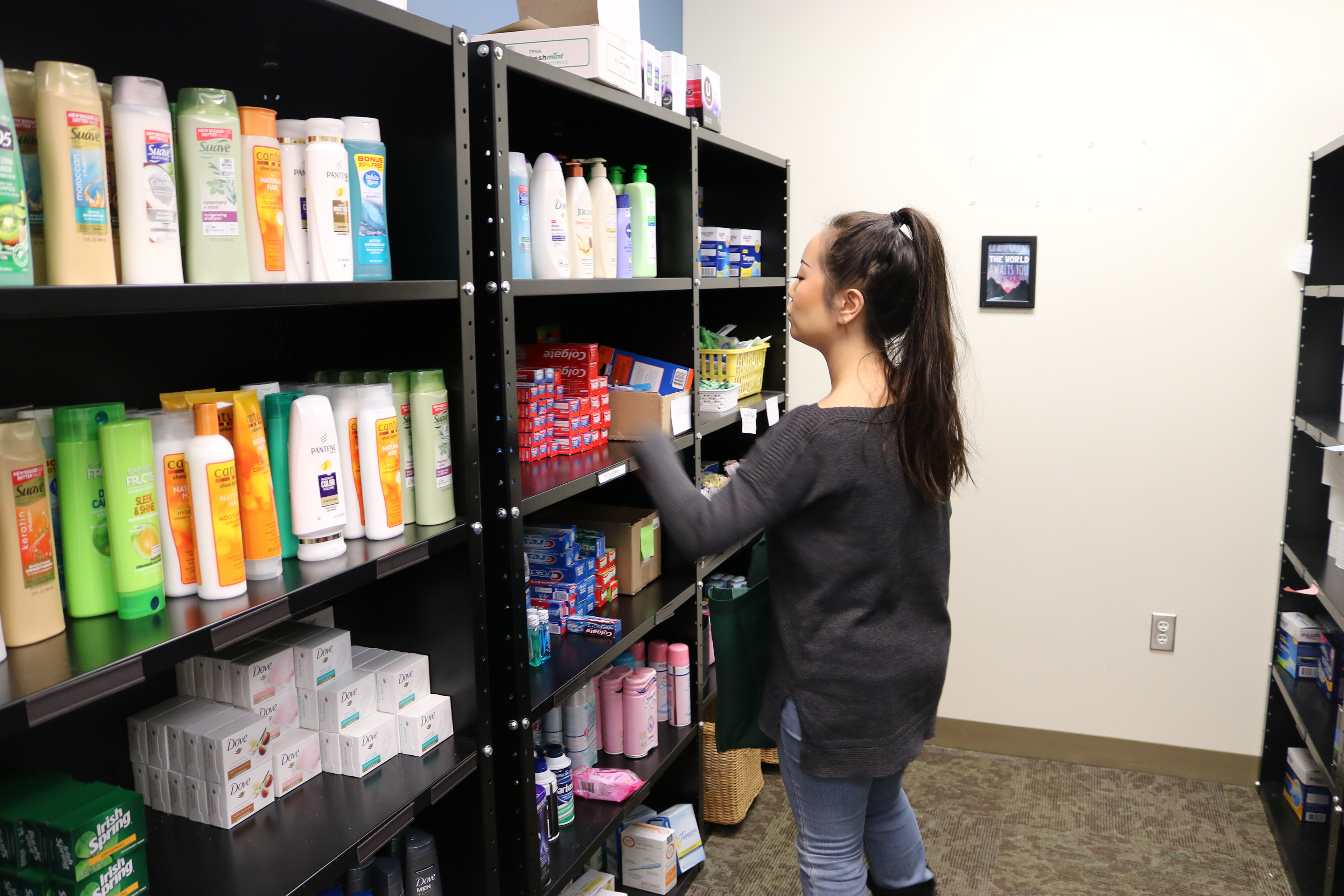 Student Workers During COVID-19

George Mason students receive emergency pay, look for other jobs
Think about your next meal, are you ordering out, or perhaps dining in? Think about your bed, how many hours till you go to sleep? Food and shelter are things a lot of people take for granted. But for people who have lost their job, not knowing if you can pay rent quickly becomes a very real problem.

Senior Gray Samman worked at the CLUB, an on-campus university media lab for students and faculty, housed in the center of campus on the third floor of the Johnson Center.

A typical shift at the club involved greeting and assisting customers at the front desk, and managing the computer workstations, as well as the collaborative spaces with 3D printing, sound recording, data compilation, and VR technologies.

When George Mason University announced it would transition to all virtual classes for the rest of the semester on March 16, all campus labs including the CLUB closed their doors, leaving students with many questions about the state of their futures.

To survive, Samman must find a new job in a market that is practically at a standstill due to the COVID-19 pandemic.

"Initially after our office closed, we were offered to telework to continue to help faculty with transitioning to online," Samman said. "This has extended to now where only myself and two of my other coworkers are currently working in these open office hours


COVID-19 at George Mason University
The World Health Organization declared an outbreak of pneumonia originating in Wuhan, China a "Public Health Emergency of International Concern" in January 2020. By February 2020 the coronavirus disease was named COVID-19.

As of May 5 there are 15 confirmed cases of COVID-19 in the Mason community according to Mason's coronavirus website.

During George Mason University's virtual Town Hall on  April 17, Interim President Ann Holton said "The majority of our students work full or part time jobs to support their education and many of them in the kinds of jobs that have been severely impacted in times of this crisis."

For example, Samman's source of income from his part-time job has been cut off and now he must spend his time looking for another job, and considering how he will pay rent on top of finding time to complete his course work to make sure he can graduate on time.

Vice President for Student Life, Rose Pascarell said the main resource for students is the Emergency Assistance Fund at the Town Hall.

Pascarell reported over a million dollars have been given out in the last month for students to pay utility and rent payments or use it to get access to computer technology for online learning.

"If you're finding that you're unable to focus on your class work because of financial issue, please reach out to your professor or your advisor or coach," Pascarell said. "Know that there is a whole network of care at mason that is here to support you."

Mason's Counseling and Psychological Services (CAPS) is offering daily virtual workshops Monday through Friday to discuss ways to de-stress or learn strategies to calm the mind.

The CAPS website says "during this time of change, it can be easy to feel overwhelmed by uncertainties and fears of the future. Mindfulness is an effective and simple way to conquer life stresses by bringing your attention to the present." CAPS runs a Mindfulness seminar every Monday at 1:30 p.m. and Thursday at 3 p.m. on blackboard collaborate.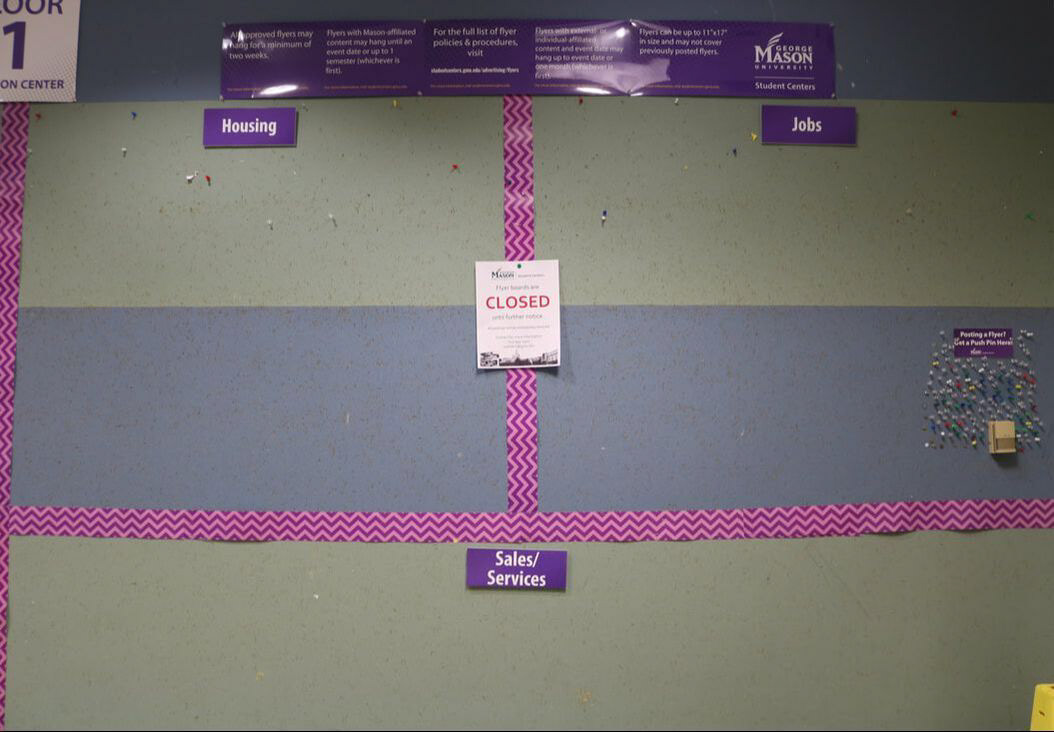 COVID-19 at Other Universities 

Mason is not the only university with students displaced due to coronavirus closures. University of Virginia closed campus on March 17, and James Madison University had a confirmed case of COVID-19 on March 19.

Kirsten DeZeeuw is employed as a group exercise instructor on JMU's campus. During the semester she worked six hours a week but now her hours have been cut down to 45-minutes a week.

During the semester there are around 20-hour long group exercises classes being taught throughout the week. Now, with the campus closure, JMU's gym and recreation center has transitioned to three or four 45-minute classes for the week taught over Zoom.

"The option to teach virtual classes was not mandatory, but still there was a good portion of instructors who wanted to teach virtually, so there haven't been many classes to go around," DeZeeuw said. "… I think they [the group exercise management team] have taken the best course of action possible by introducing virtual classes and still giving us the option to work, but just because of the nature of the game I have lost a lot of hours."

Although DeZeeuw is not looking for a job to supplement or replace her job at JMU, she is actively looking for virtual internships.

"I had an internship lined up for the summer with a local media group, but because the virus has shut everything down my internship was cancelled," DeZeeuw said. "In response I am going to continue teaching group exercise virtually when possible throughout the summer, as well as continuing to send out applications for virtual internships."

Not only are students losing hours for their current jobs, but many students work summer internships to gain valuable experience and connections to get a job post-graduation. The slump in the economy now could have lasting effects on the abilities of college grads to find work in future years.


COVID-19's Lasting Economic Impact

Professor Donald Boudreaux was the Chairman of the Department of Economics at George Mason University from 2001-2009. He continues to supervise dissertations and contributes to the Economics blog Café Hayek.

Professor Boudreaux describes the global market economy as "an incredibly complex process of cooperation of literally billions of people." Currently, the economic system has been brought "largely to a halt" and he worries that "getting people back into position to cooperate with each other to resume production will be difficult," and take a significant amount of time.

"It is already difficult for graduates to get good jobs, and with everything being shut down I imagine there will be an even higher percentage of people on the job market when I am attempting to enter the workforce," DeZeeuw said.

Students, such as Samman, who use their hourly wages to pay for rent and food may not have as much in the way of savings to support themselves in this time, yet still, need to supplement their income to purchase basic needs during a  time of slow economic growth.   

"Initially after my office closed, I applied to Amazon as a seasonal sorter since I was unsure of my income and job security and was offered a position immediately," Samman said. "I start tomorrow."

Reports of Amazon employees testing positive for coronavirus have come from New York, Florida, Michigan, and other states.  This has led to worker protests outside Amazon warehouses.

"I am afraid that I may catch the virus since I will be working at a spot where multiple products and packages come in from around the world," Samman said.

Amazon's coronavirus blog reports they since have made "over 150 process updates" such as staggering break start and end times and eliminating stand-up meetings rather than turning to signs and texts to convey information from a distance.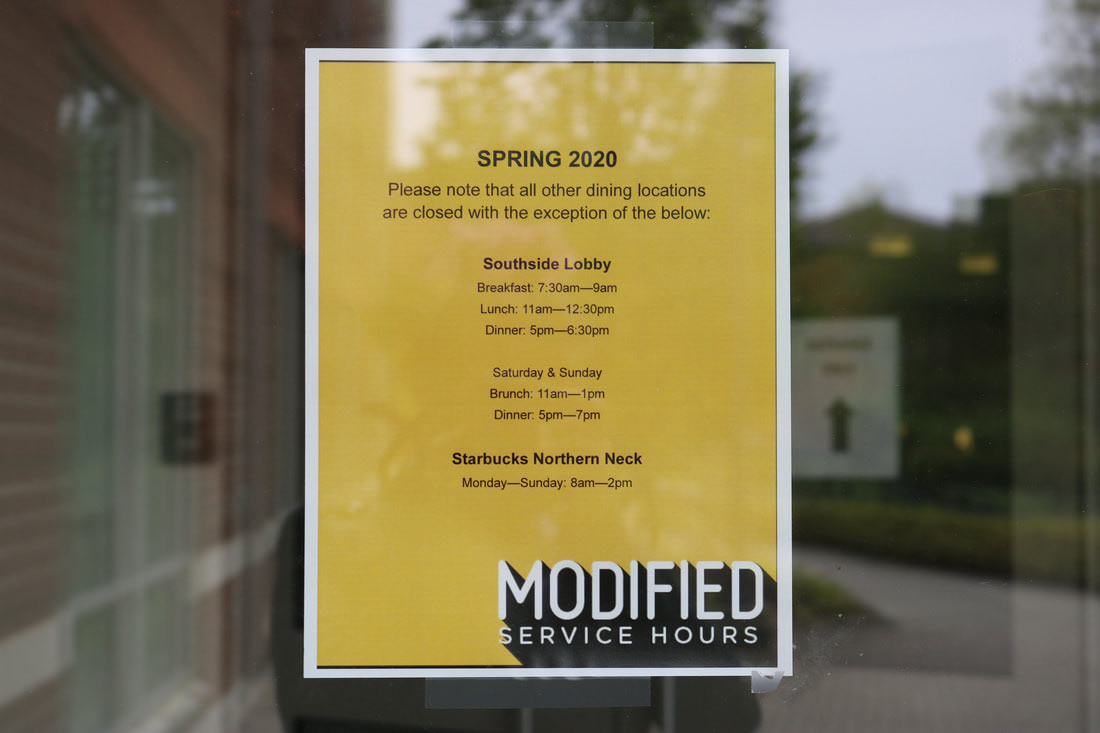 On Campus Student Workers

Although Samman is no longer working, other students are being offered emergency pay or have continued to be given work remotely for their "on-campus" jobs.

Other students such as Camille Brayshaw who worked at the CLUB's sister lab, STAR Lab, is also being offered emergency leave pay. This payment is equal to her regular hourly pay, for her regular weekly schedule and will be paid up to 80 hours.

"I feel I am valued by my employer," said Brayshaw. "This emergency money will help me with rent and groceries. And now in quarantine I have time to work on myself."

She has also started looking into working as an Uber Eats driver to supplement her income.

Other students on work-study are affected by the federal hiring freeze Governor Northam implemented as part of his economic response to the coronavirus.

Asma Tabra works in the SP@RC lab in Fenwick Library on Mason's campus. In this lab, she designed and presented Adobe Photoshop workshops, as well as advised students on poster and presentation design.

"My work study hours don't cover the entire semester, so the library would pay for the remaining few weeks of my employment per semester, as a wage student worker," Tabra said. "However, because of the COVID-19 situation, the governor implemented a federal hiring freeze, which meant that the library couldn't switch me over to wage, and I ran out of work study hours."

When Mason went to virtual services Tabra was getting paid her normal wage to continue to do online training and work on developing her Adobe presentations until her work-study hours ran out. Although Tabra is out of work now she hopes to continue working next fall when her work-study hours renew.


National Unemployment

Student-workers at one university are just the tip of the iceberg. St. Louis Federal Reserve President James Bullard spoke on CNBC and predicted the unemployment rate could rise as high as 30 percent before the coronavirus has been contained to manageable levels.

As of April 30, CNN reports 30 million Americans have filed for unemployment since March.
Odds are, everyone knows someone whose work life has been dramatically altered.

Many state Governors, including Virginia's Governor Ralph Northam, have issued executive orders telling people to stay in their homes with exceptions only for "essential workers."

Flattening the Curve

The idea of the shelter-in-place order is to "Flatten the Curve," the term for reducing the number of new COVID-19 cases from one day to the next.

"Many hundreds of thousands of infections will happen," Live Science reports. "But they don't have to happen all at once," and that's why 'flattening the curve works.

The sharp increase in coronavirus cases has overwhelmed hospitals. Social distancing keeps people from encountering one another to slow the spread of the virus and then hospitals will be able to keep up with a slow stream of new cases.

 Thousands of people will still get sick, 'flattening the curve' won't prevent that, but this theory will allow hospitals to better prepare for a huge influx of people.

When the virus first reached the U.S. the amount of people admitted to the hospital quickly ran out of supplies including masks, gowns, ventilators, and body bags.

According to a research study by the National Bureau of Economic Research, new COVID-19 cases fell 43.7 percent just weeks after many states gave shelter-in-place orders.

But in many states, including North Carolina, Michigan, New York, Ohio, Virginia, and Kentucky, people are protesting to end these shelter-in-place orders and reopen businesses so people can make money and kick-start the economy.

Georgia's governor Brian Kemp's shelter-in-place campaign ended April 30. Georgia has allowed the opening of business as long as they follow social distancing measures, but the opening of the state has been met with backlash.

California's Governor spoke about the possibility to ease stay-in-place restrictions in response to protests and the economic toll from the six-week state closure according to United Press International. California has the fifth-highest number of COVID-19 cases in the U.S. at 52,632 cases and 2,171 deaths.

As of May 5, across the U.S. 23 states already have started partial reopening for certain businesses, including places of worship, personal care, and retail services, and 6 states are opening within the next week. 21 states still are in shut-down or have strong restrictions in place for the foreseeable future. Virginia currently has the longest lock-down lasting until June 10, the only state to reopen in June.

Inflation due to COVID-19

"With many people not going to work, many goods and services that are ordinarily produced are not now being produced … There are simply fewer goods and services available to meet people's demands and needs," Professor Boudreaux said. "This problem cannot be solved by the government printing money or by writing checks … instead, will result only in inflation."

Inflation is the general increase of prices every year. A small level of inflation every year is a sign of a healthy economy.

Hyperinflation is when the government pumps the economy by printing more money to give to people causing prices to increase so the government sends out even more money to pay employees more to cover these rising costs, and the value of the currency falls.

The U.S. government has approved the borrowing of nearly three trillion dollars, which Business Insider reports is more than five times the amount borrowed during the 2008 recession and double the 1.28 trillion borrowed in the entire year of 2019.

This money will be used to cover the mounting costs of coronavirus stimulus plans, including the stimulus checks of around 1,200 dollars sent to many Americans.

"I am not very educated on economics, but I am nervous about just how much economic growth will be stunted," DeZeeuw said. "It also makes me curious to see if this will affect my parents' and grandparents' retirement income, though hopefully the virus will not have a severe impact."

The U.S. Department of Labor has developed a coronavirus resources page to give employers guidelines on workplace, hours, leave, and safety in an attempt to keep the economy running while keeping citizens healthy.

"I feel like I'm in a different reality … with post-apocalyptic rules and regulations … most of my daily life has changed," Samman said. "I have never seen anything like this before and I am unsure of how long before the world goes back to normal."

People have been laid off, given emergency pay, sent to work from home, or forced to continue working at the risk to their own health. There is hardly a person in the world whose life has not been touched in some way by the COVID-19.

"It's always a good idea to save for the proverbial rainy day," said Professor Boudreaux. "Well, now we've got a full-on torrential category-5 hurricane … people who haven't saved enough will learn from this experience to increase their savings for future rainy days – because there will always be rainy days in our future.